Tourists are big fans of wind energy
In our experience, visitors to our wind farms are usually impressed by the size of the machines, the engineering that goes into designing, building and operating them and how quiet they are when you're standing near them.
Something often not discussed is the popularity of wind farms as attractions. Our own 'Run with the Wind' festival, held annually, draws in hundreds of visitors from local town and big cities. There's a range of research into wind energy, landscapes and tourism as well, and it presents strong evidence that wind farms can boost tourism.
There are quite a few examples of wind farm tourism in Australia and around the world. Many local businesses use wind turbines in advertising and imagery, and others focus on tours around local wind farms. We've compiled a few of these below, but there are plenty more – if we've missed any, let us know.
Crookwell, New South Wales
source – VisitNSW
The Crookwell wind farm, in New South Wales, is listed as a tourist attraction on the 'Visit NSW' website. It has a popular viewing area, and can be covered in snow, in winter. It's worth stopping by if you're in the area.
Woolnorth, Tasmania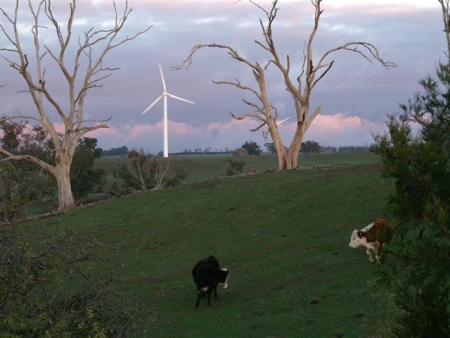 source – Wwindea.org
I've visited this wind farm, and it's probably one of the best wind farm tourist attractions I've ever been to. A company, Woolnorth tours, runs a bus through the wind farm, and you can also visit Cape Grim, which features a very cool meteorology station (cool if you're nerdy like us, obviously).
It's very much worth visiting – it's had very good reviews on Trip Advisor, and I can personally attest to the tour being a lot of fun. Woolnoth Tours features a large wind turbine on their logo.
Cape Bridgewater, Victoria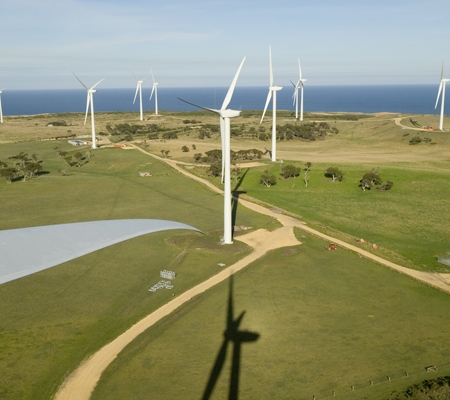 source – Pacific Hydro
Traveller.com.au lists Cape Bridgewater on their top six reasons to visit Portland, Victoria. They mention the wind farm:
"On the headland above the bay is the Cape Bridgewater Wind Farm. Twenty-nine turbines sit in the rolling dunes, and in the late afternoon, when the sea mist and towers are backlit by golden light, it is an other-worldly sci-fi landscape"
The Cape Bridgewater wind farm, set alongside a stretch of beach, really is eerie, but very beautiful too, so it makes sense that this website would include it on its list of attractions.
Codrington, Victoria
source – Google maps
The official tourism website of Port Fairy and Moyne Shire in Victoria lists the Codrington wind farm as an attraction – educational tours are available, including information about the farm, which has been in the same family since 1856.
Lake Bonney, South Australia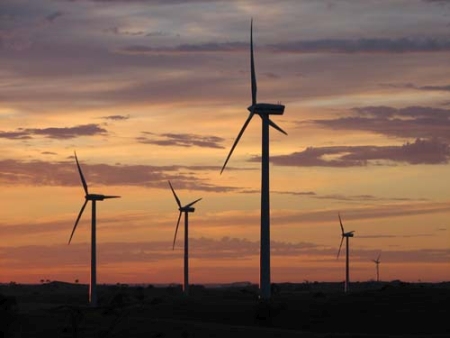 source – Dave Clarke's wind blog
This wind farm is one of ours, and it's listed on the website of the Wattle Range council. The 'wind farm tourist' drive is centred around the wind farm, and they write "Look up to the higher ground of the Woakwine Range and gaze in awe at the mighty wind turbines that stretch as far as the eye can see embracing the "Clean and Green" experience"
As the people working at the wind farm would confirm, it's a popular tourist spot, and we're very proud of it.
Snowtown Wind Farm
source – Dave Clarke's wind blog
Snowtown wind farm is also quite beautiful, but sadly, the town has suffered due to a crime committed and a popular film about the crime that bore the same name.
Despite this setback, Snowtown and Snowtown Two have contributes significantly to the economies of nearby towns – you can read about it in this article.
As you might notice in the article, the entrance to Snowtown features three small wind turbine models. In addition, the wind farm also hosts cycling events, bringing in Tour de France winner Cadel Evans and South Australian Premier Jay Weatherill. Read more here and here.
"200 local jobs have been created in the town of just over 2000 people to support the build for the wind farm. The characterization of this town as plagued with unemployment and criminality are no longer true"

"Nobody seems to object against them, they're a benefit for the town labour-wise and also they're putting money into the community"
Te Apiti Wind Farm, New Zealand
source – Marshall Day
New Zealand has a large collection of wind farms, quite varied in their size and location. As you might expect, they play a role in New Zealand's tourism industry. The Te Apiti wind farm is listed in the top 10 things to do in the local area.
"Located on the Saddle road between Ashhurst and Woodville, you can get up close to these giant wind turbines and learn all about how they work. With giant turbines whirring overhead, these surreal machines are quite a spectacle to behold"
Wellington Wind Farm, New Zealand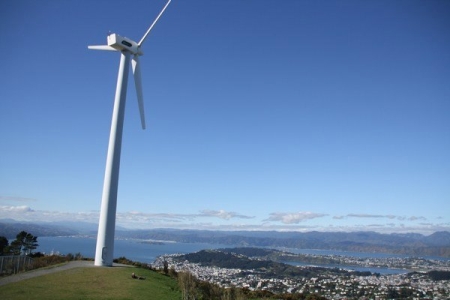 source – Travelblog.org
This wind turbine was recently deconstructed as it reached its lifespan (it was installed in 1993), but is due to be replaced by a bigger, better model – regardless, it's served as a key tourist attraction in Wellington. I visited Wellington recently; it's a beautiful city and walking routes up to the turbine featured quite prominently when my partner and I were looking for things to do in the city.
Musselrow Wind Farm, Tasmania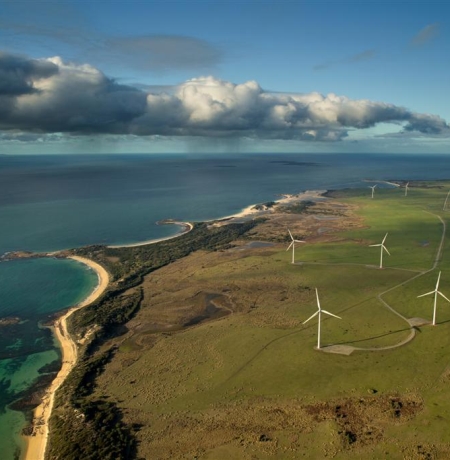 source – Hydro100
I'm quite fond of Tasmania, not just because it has a grid that's run almost entirely on clean hydro power (with some wind and solar in there, too). Quite a few of Tasmania's wind farm assets bring in tourists, including the Musselroe wind farm:
"Icena Accommodation hosts special interest groups from shipwreck divers, lighthouse stalkers, wildlife photographers and bushwalkers to school groups, with a tailored educational package involving indigenous history and culture taught by local Aboriginal elders, wildlife expedition and visit to Musselroe Wind Farm"
Rizal Wind Farm, Phillipines
These comments comes mostly from the developer of the wind farm rather than a media outlet or a tourist site, but it's worth mentioning just as an example of how this effect comes into play in many different countries. The local Governer told Yahoo News that:
"Every day, thousands come to visit and see the wind farm. This will really open a lot of opportunities not only for the province, but also for our people"
Bangui Wind Farm
The cover image of this blog post is from the Bangui wind farm – a popular attraction in the Phillippines:
"This has made the windmills not only a source of clean energy, but also a major tourist attraction. Several enterprising individuals, taking note of increasing tourist arrivals, have set up shop and selling snacks, souvenir t-shirts and even miniature windmills made of bamboo to tourists.
Tiatco said that the fact that the windmills is a tourist site is just a bonus. "We never advertised. They (tourists) just came here," he said.
Tiatco welcomes the busloads of tourists that flock to the area, especially during weekends and the summer season of March to May. Some of them are primary and high school students go there as part of their field trips, while others are a group of friends and/or families who just want to take souvenir photos of their trip"
You can buy wind turbine models at the wind farm, supporting the local trade. Be sure to check out the reviews on Virtual Tourist.
This isn't a comprehensive list of wind farms that serve as tourist attractions. You can also read about Michigan's thriving wind turbine tourism industry, or read the Tripadvisor tourist ratings pages for the Albany wind farm, Whiteless wind farm, Acua wind farm, Bowling Green wind farm, Grouse Mountain wind farm or the Lowestoft Harbour wind turbine.
It's pretty clear that the vast majority of wind turbines boost tourism, and this ought to be considered when communities are thinking about how a wind farm might help local businesses.