113.2 MW
Nameplate capacity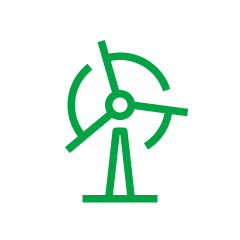 33
Number of turbines
49,000
Number of homes powered
Bodangora Wind Farm is located approximately 15 km east of Wellington, near Dubbo in New South Wales in the area originally inhabited by the Wiradjuri people. The 113.2 MW wind farm has been operating since 2019 and comprises 33 General Electric 3.43-130 wind turbines. The wind farm generates enough renewable energy to power approximately 49,000 homes each year.
Bodangora Wind Farm was developed, constructed and continues to be operated by Iberdrola Australia. A Power Purchase Agreement for electricity and Large Generation certificates (LGCs) for 60% of Bodangora Wind Farm's electricity generation is in place with Energy Australia until 31 December 2030.
The Bodangora Wind Farm Community Consultative Committee (CCC) was established in 2012 and generally meets on a quarterly basis. Members include residents local to the wind farm.
The Bodangora Wind Farm Community Fund allocates a minimum of $50,000 of community funding each year. This arrangement is in place for at least the first 25 years of the operation of the wind farm, until 2044. The Bodangora Wind Farm Community Fund is administered by Dubbo Regional Council.
Iberdrola Australia also contributes $17,000 each year to the Bodangora Wind Farm Community Enhancement Fund which sponsors local events. The Community Enhancement Fund is managed and distributed by Iberdrola Australia.
Bodangora Image Gallery
You must obtain Iberdrola Australia's prior written approval before you publish, reproduce or distribute the images in this gallery. If you'd like to do so, please contact media@iberdrola.com.au